Yes, this is my second Wizard of Oz related post in a week, but it's just
that good
! How many of us wished we'd wake up one morning and be "over the rainbow" in a colorful world filled with magic? Well, minus the evil witches :) I know I did! I've loved this film for as long as I can remember and this song is one of my favorites.
Also, did you know that every year there is a Wizard of Oz festival held in upstate New York? It's called Oz-Stravaganza. It happens the first weekend in June and is held in
Chittenango, NY
, where Oz author, L. Frank Baum, was born. I want to go so badly!
I'll leave you with one more Oz related item. There's a card game that was recently released called
Oz Fluxx, created by Looney Labs
. I had the pleasure of meeting the Looney family and playing this game several months ago and I can vouch that it's super fun - especially if you're an Oz fan!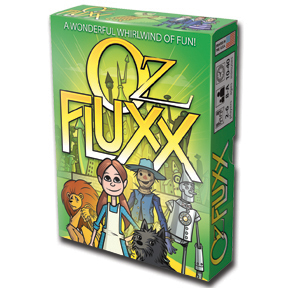 Have an over the rainbow day Rainbow Geeks! :)